Today I'm excited to be featuring Jacqueline Woodson's latest novel, Harbor Me. I really enjoyed Jacqueline Woodson's Brown Girl Dreaming and Another Brooklyn, and she visited my school during my freshman year! Harbor Me is her first middle-grade novel since National Book Award winner Brown Girl Dreaming. I read Harbor Me last week, and I loved this diverse, emotion-filled story.
About Harbor Me:
It all starts when six kids have to meet for a weekly chat–by themselves, with no adults to listen in. There, in the room they soon dub the ARTT Room (short for "A Room to Talk"), they discover it's safe to talk about what's bothering them–everything from Esteban's father's deportation and Haley's father's incarceration to Amari's fears of racial profiling and Ashton's adjustment to his changing family fortunes. When the six are together, they can express the feelings and fears they have to hide from the rest of the world. And together, they can grow braver and more ready for the rest of their lives.
About Jacqueline Woodson: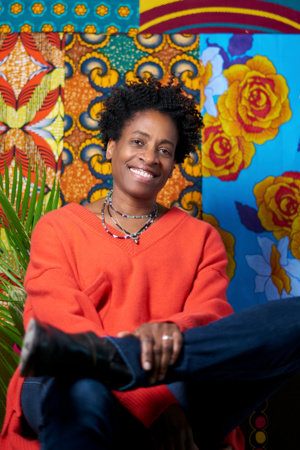 Jacqueline Woodson is the 2018-2019 National Ambassador for Young People's Literature, and she received the 2018 Astrid Lindgren Memorial Award and 2018 Children's Literature Legacy Award. She is the 2014 National Book Award Winner for her New York Times bestselling memoir Brown Girl Dreaming, which was also a recipient of the Coretta Scott King Award, a Newbery Honor, the NAACP Image Award and a Sibert Honor. Her recent adult book, Another Brooklyn, was a National Book Award finalist. She is the author of more than two dozen award-winning books for young adults, middle graders and children; among her many accolades, she is a four-time Newbery Honor winner, a four-time National Book Award finalist, and a two-time Coretta Scott King Award winner. Her books include The Other Side, Each Kindness, Caldecott Honor book Coming On Home Soon; Newbery Honor winners Feathers, Show Way, and After Tupac and D Foster; and Miracle's Boys, which received the LA Times Book Prize and the Coretta Scott King Award. Jacqueline is also the recipient of the Margaret A. Edwards Award for lifetime achievement for her contributions to young adult literature and the winner of the Jane Addams Children's Book Award. She lives with her family in Brooklyn, New York.
FOLLOW THE BLOG TOUR 
Is Harbor Me on your TBR? Have you read any Jacqueline Woodson books? Share in the comments!